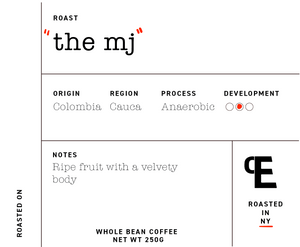 The MJ pushes the envelope of what one may expect from coffee. This experimental micro-lot is available in limited quantity.
The Anaerobic Process
The coffee fruit is picked and fermented for 5 days in an airtight tank before it is set out to dry through a natural drying process. This fermentation is meant to add complexity to the flavor profile of the bean, almost "pushing" flavor from the cherry into the bean. 
The Producer
The Manos Juntas micromill helps producers in the Sotara area of Colombia's Cauca region focus on the farming by handling the post-harvest processing of the grown coffee cherry. The micromill processes some of the finest coffees in Colombia, with many experimental lots.
The Coffee
We roast this coffee to get exceptional body out of it while preserving the ripened fruit aroma and aftertaste. The MJ is a flavor bomb as an espresso, while a pour over allows for a little less sensory overload. We highly recommend enjoying this coffee black.
Customer Reviews
12/28/2021
New favorite morning cup
This single origin from Colombia is a fiesta upon each sip. Notes of ripe plums, white grapes and cherries smoothly dance about your palette. Complex yet an invigorating coffee that instills colors to your mind with every taste. The MJ is an artistic roast that paints a lively image, perfect to be enjoyed black.
Patrick S.

United States