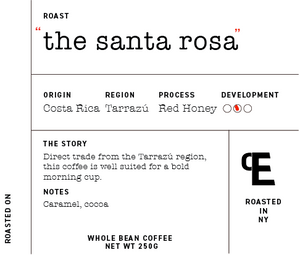 The Santa Rosa comes from the famed Tarrazu region of Costa Rica. We partnered with Exclusive Coffees in Costa Rica to purchase this wonderful coffee direct trade. The Santa Rosa is a honey processed coffee. This means that, during processing, the sweet mucilage from the fruit is left behind on the bean. 
This coffee is wonderful with all brew methods. The caramel, cocoa, and cane sugar notes really pair well with milk-based preparations. 
Customer Reviews
11/02/2021
So good!
Love this coffee—freshly made using my pour over this morning! It's rich in flavor + the subtle hints of caramel really round it out. It may be a new favorite!