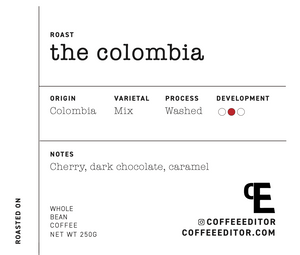 Indulge in the rich flavors of authentic Colombian coffee with our exquisite "the colombia" whole bean coffee.
Perfect for your daily morning ritual, this exceptional coffee boasts a symphony of tantalizing notes, from the smooth depth of dark chocolate to the vibrant tang of cherry, all harmoniously balanced by a touch of caramel sweetness. Every cup is an invitation to savor the essence of Colombian coffee, where tradition meets refined taste and elevates the ordinary to the extraordinary.
Experience the true meaning of specialty coffee with "the colombia" and elevate your coffee routine to new heights.
"the colombia" comes from small family-owned farms in the Colombian "coffee triangle."
Origin: Colombia
Varietal: Caturra, Colombia, Typica, Castillo
Process: Washed
Development: Medium
Size: 250 grams